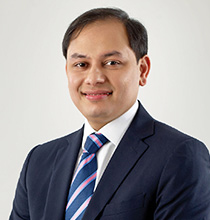 Mr. Pranav Adani has been active in the group since 1999. He has been instrumental in initiating & building numerous new business opportunities across multiple sectors. He has spearheaded the Joint Venture with the Wilmar Group of Singapore and transformed it from a single refinery edible oil business into a pan India Food Company. He also leads the Oil & Gas, City Gas Distribution & Agri Infrastructure businesses of the Group. His astute understanding of the economic environment has helped the group in scaling up the businesses multi fold.

Mr. Pranav Adani is a Bachelor of Science in Business Administration from the Boston University, USA. He is also an alumnus of the Owners/President Management Program of the Harvard Business School, USA.
Mr. Pranav Adani has been conferred with several awards, Globoil Man of the Year Award 2009 being one of them.